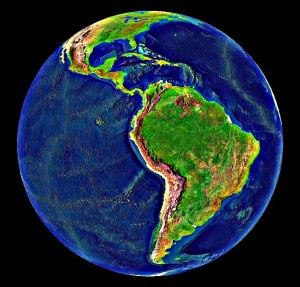 The Next Web compiled an awesome list if tech hubs in Latin America. Read the whole post here, the following is the abbreviated version, note Brazil seems to be the dominant force in Latin American tech.
 Miami, Florida – The city serves as a bridge between the U.S. and Latin America.
Moneterrey, Mexico – There's a tech university, money to fund startups and the talent to make it happen.
Mexico City, Mexico – Just like Monterrey, this city's got the talent and money on the next level to make tech happen.
San Juan, Puerto Rico – Startup fever seems to have taken over the island.
Caracas, Venezuela – An emerging tech scene along with co-working and network spaces.
Guatemala City, Guatemala – With a mini Silicon Valley known as Campus Tecnológico, startups are beginning to gain steam.
Medellin, Colombia – Private and government initiatives are making this city ripe for innovation.
Bogotá, Colombia – With international cooperation, this city is pushing for more startups.
Manaus, Brazil – Between manufacturing and coupon startups, this city is growing as a hub.
Recife, Brazil – Partially due to educational institutions, this city's tech rep has been established for a while.
Lima, Peru – There's a growing investment community here.
Belo Horizonte, Brazil – Google, startups and VCs make this a big tech city.
Rio de Janeiro, Brazil – Cisco and IBM love this city, others are following.
Campinas, Brazil - One of Brazil's main tech talent hubs.
São Paulo, Brazil – Talent, VC money and a thriving economy make this city a huge deal for tech in Latin America.
Curitiba, Brazil – Startups galore in this Brazilian city.
Santiago, Chile - Start-Up Chile, is government-backed program giving global startups a $40,000 grant to incubate their projects.
Buenos Aires, Argentina – A great place for entrepreneurs.
Read the original piece here.
[Image Via Rex]