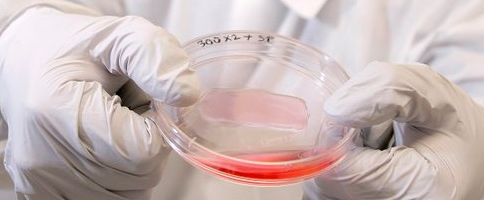 The future of medicine is being developed in El Paso, Texas, at a company called TeVido BioDevices. The technology combines medicine and 3D printing in such a way as to allow scientists to take skin and fat cells and, using 3D printing technology, create a piece of flesh made of your own cells.
"I was just blown away," is how Laura Bosworth, CEO of TeVido, describes feeling when she came across this technology at the University of Texas at El Paso in 2010. Bosworth had retired after decades' worth of experiences as an executive at IBM and Dell, and had gone home to El Paso to work with entrepreneurs at UTEP in hopes of fostering innovation.
How does this technology work? Quite simply, TeVido takes a recipient's fat and skin cells, then uses its technology to 3D print an implant. This implant, of course, is made of the recipient's own tissue.
Bosworth decided that she just had to work with the inventor of this technology, Professor Thomas Boland, because of the excitement of how it could change medicine. Although the initial product was skin cells, TeVido eventually shifted focus to its flagship product, a nipple.
Bosworth explained that for women with breast cancer in particular, the nipple is often the hardest part of a breast to reconstruct. Thus, the TeVido product will allow women to undergo mastectomies with the closest approximation to their own pre-cancer bodies as possible.
But there's more.
"What's great about our technology is we believe that, we start with the nipple, and as we mature, the capability of the technology can start going into other areas," Bosworth said.
Lumpectomies, where a piece of tissue is removed, is a good example, and of course the possibilities for cosmetic surgery are exciting, she added. Imagine a breast implant made from the recipient's own tissue, or a butt implant made from the recipient's own flesh, a calf implant was another example Bosworth said TeVido's technology could address.
The company is currently funded through the University of Texas at El Paso, as well as the National Science Foundation, but looking for more funding. Still in the early stages of product development, Bosworth said if the company were fully funded TeVido could enter into clinical trials in about 2 years, with approval after about 3 more.
"If we were fully funded, potentially, we could have our product on the market in 5 years," she told Más Wired.
TeVido plans to continue developing its product and, with the right investment, expand to other parts of Texas and other products. To learn more about TeVido visit the company website here.
Courtesy Photo
Video via CNN