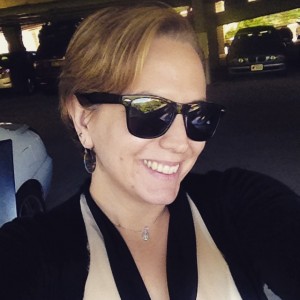 I am a software developer.
For the past few weeks I have been saying that aloud to people, in awe of the fact that it's true. The past 10 years of my professional life were dedicated to journalism, both traditional and digital, and media startups (see more about my career on LinkedIn here). Which is to say, I was working in tech, but not necessarily working to create it. And so, the fact that I've finally "arrived" at a destination I set my sights upon several years ago continues to be magical to me.
The past year of my life involved a set of circumstances that's allowed me to now work as a tech professional, and I want to share those details briefly, as well as my personal roadmap for "breaking in" to work in tech. I hope that this story will help some of the folks that read it, through the power of shared experiences, or as a spark for your own journey.
Let's look at a few tidbits about me first (TLDR;):
Graduated from Stanford University in 2005
Laid off for the third time at the start of 2014
Started Sabio.la developer bootcamp in September of 2014; graduated in December
Sought work as a software developer in Austin, Texas for 4 months
After 40 phone or recruiter interviews
A dozen in-person interviews
42 applications submitted on Dice
20 on Indeed
A few dozen apps submitted through Craigslist/networking/Facebook groups
Finally got 2 job offers on the same day in April
So that's the short version.
The longer version is that, as I started to work in digital media, I found myself edging closer towards "coding." That is, working on HTML and fixing things on the blog platforms that I was working on. My foray into coding, then, was by necessity. In 2012 I realized that I needed to get hip and learn more substantial coding skills, but I wanted to learn in a group environment, and couldn't find anyone to learn with me.
By 2014, I found myself laid off from my media job — again — and chose to move back home to Texas from LA. I worked as a consultant for a while in Austin, then the week I was going to start applying to marketing jobs as a way to fund my coding education on the weekends, I got a call from my friend Liliana Monge, co-founder of Sabio.la.
"Sarita, we have a spot for you in our class. You should come learn to code with us."
I'd met Liliana in LA at a networking event; I was trying to meet as many Latinos and Latinas in the tech industry as I could. As soon as I got to the event, I saw her and my other techie friend Luz Rivas (check out DIY Girls here) and made a beeline for them. We've been friends ever since. She told me I had a week to figure it out, and, after thinking about it, I decided to go for it.
So, I left Texas for LA — again (but only temporarily this time) — and started spending my days in Culver City immersed in JavaScript and C#. This crazy sojourn was made possible, largely because of friends I had made through networking in LA (never underestimate the power of networking!); my friend Machiko Yasuda generously allowed me to stay with her while I worked through Sabio's program and Liliana thought highly enough of me to keep my dreams in mind when she saw an opportunity for me.
What I'll say about Sabio is that it was an amazing experience that changed my life, introduced me to people who continue to inspire me daily, and opened my eyes up to the fact that I could push myself farther than I thought I could. That being said, it was super hard, one of the more difficult experiences of my life, and one that I now use to remind myself that I can confront the challenges life throws at me. If you'd like to ask me more about my experience there, tweet me: @SaraChicaD.
The job hunting part, which I started the day after I returned home to Austin, was tedious to say the least. I was daunted by just about everything in this process, from looking for the jobs, to talking to recruiters, to sharing compensation expectations and of course, the technical interviews. I've never had to do so much to find a job as I did this one, but it's totally been worth it.
I am making a salary as an entry-level software developer that's comparable to what I made after 10 years working in the media.
That being said, there were several folks who said weird, sexist-ey stuff to me ("You'll bring a nice feminine touch to the office."); one recruiter I spoke to told me that the hiring manager thought I was "too ambitious" for his team because I thought about moving into management 5 years from now; one recruiter told me that they suspected the folks at the place I interviewed were racist and they had to drop them as clients as a result; an interviewer laughed at me when I said I could bring myself up to speed on their technology in a few weeks.
There was a lot of humiliation, disappointment, stress, and deep breaths during the 4 months that I looked for a job. The good things were that I knew I could do the job, I had a community of Sabio Fellows who'd become successful technologists encouraging me all the time, and I happen to be so stubborn that I refused to believe I couldn't make my dream come true — until I gave up on it.
In April I decided that I needed to give up and just get a marketing job and stop living off my savings and give up on tech, and just get real.
After about a week or so I had several interviews lined up; when the tech interviews kept coming, I just assumed they'd not pan out like the others did. Boy, was I surprised when, one Monday a few weeks later I had two job offers on my plate and I had to start canceling marketing interviews and decide between the two!  After one intense day of deliberation, I made my decision and I've been working as a professional in the tech industry ever since (that's about three weeks).
So, that's the long version.
As I mentioned, I wanted to share this for anyone who's thinking about changing careers, or is having a hard time doing so. Feel free to reach out to me on Twitter @SaraChicaD if you want to ask me something, also check out Sabio.la here.
What I'm doing now that I'm employed is, obviously, working hard and learning as much as I can to become a better tech professional, but also, doing different types of outreach. I volunteer as the Austin Evangelist for the Women Who Code network there, and I work on various initiatives focusing on driving up the number of Latinos who work in tech. If you're interested in that kind of stuff, ping me on Twitter, let's connect.
I guess if there's one takeaway that I'd like for everyone to have from my experience, it's something my grandfather used to tell me all the time, that I still think about all the time. He used to say it often, "Se sufre para merecer" — you suffer to deserve — which has many variations: nothing worth doing is easy, what doesn't kill you makes you stronger, if it was easy everyone would do it, etc. His words certainly proved true in my case, good luck to you all on your tech journeys!