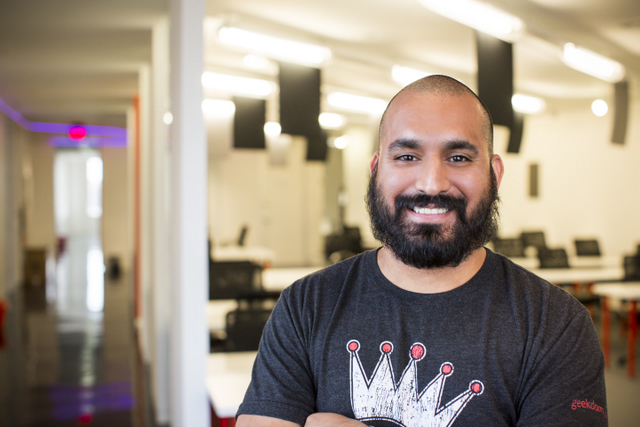 Más Wired had a chance to catch a few minutes of Lorenzo Gomez's time recently. As the Director of San Antonio's Geekdom and Executive Director of The 80/20 Foundation — focusing on STEM, entrepreneurs and urban development — it seems to be quite a feat.
Gomez, who started with Rackspace many years ago, told Más Wired that Central Texas and San Antonio are important parts of the country's tech scene and that Latinos are one of the most entrepreneurial groups in the country. Follow Gomez on Twitter, learn more about Geekdom (here) and The 80/20 Foundation (here). Enjoy this piece, please share!
MW: What do you do, and how does it affect the community?
LG: I currently serve as the Director of Geekdom and the Executive Director of The 80/20 Foundation, both of these organizations have a tremendous effect on the San Antonio community. On the Geekdom side, we are trying to help create more tech startups which will in turn create more jobs. On the 80/20 side, we are trying to use philanthropy to create a downtown that people want to live in, help schools provide STEM education, and help foster the entrepreneurial spirit in San Antonio. Our long-term mission is to create an ecosystem where the next Rackspace can happen in San Antonio.
MW: What were some important steps you took in your professional life to help you get to this point?
LG: I think the work place is the ultimate laboratory for learning. I have always looked forward to reading books, learning new concepts, and then attempting to execute those concepts in the real world. Sometimes they work, sometimes they don't, but the learning that happens is better than any MBA you can pay for. This was instilled in me during my early days at Rackspace and I have carried it with me ever since.
MW: Do you think Central Texas, and San Antonio in particular, are important tech hubs? If so, why? How do you see this growing in the future?
LG: Central Texas and San Antonio are important tech hubs. San Antonio, specifically, has a thriving technology sector that no one knows about. As a city we have a huge bio-medical sector, cyber-security sector, and information technology sector with companies like Rackspace, Peer1, and Hostway. The next evolution of the tech sector will be our universities getting more involved and it's already happening. The University of Texas at San Antonio is leading the charge, but as research picks up people will start to see more technology solutions being created in our city.
MW: What tips do you have for Latino entrepreneurs, or people who are thinking about starting their own business?
LG: Get in motion and start something. People think you have to be "Steve Jobs smart" or "Bill Gates wealthy" to start their own business; it's not true. Anyone can do it, and if you have the determination you can have a huge impact. Latinos statistically speaking are one of the most entrepreneurial groups in the country, which means that they are creating the jobs that our country needs. This is something we should celebrate. We need to make heroes of our friends and family that decide to go down the entrepreneurial path.