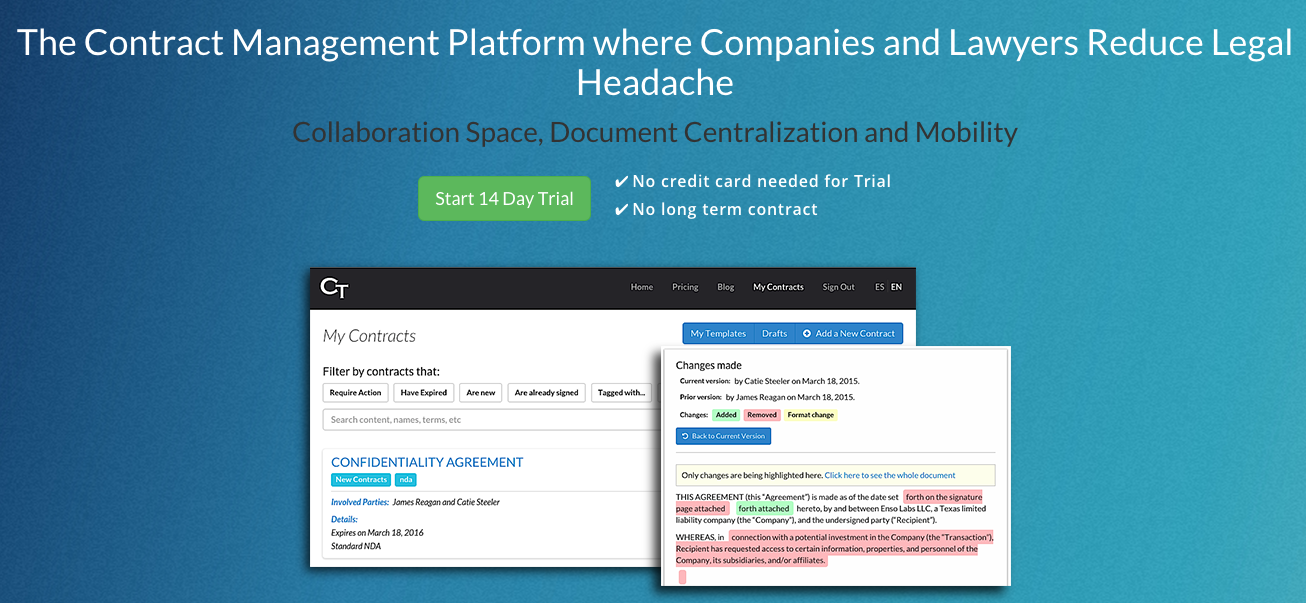 Contratool is a startup based in San Antonio, Texas that allows mutual parties to work on contracts without having to send email attachments back and forth. The cloud-based tool essentially allows folks to redline, edit, assign to dos, add expiration dates, and finalize contracts using just this tool.
The co-founders are Franz Pereira and Gerardo Canales, and the company's main focus is attorneys. The tool is currently live, check it out here. The company considers itself in the early adoption phase, focusing on a single vertical, but Canales said, "We [hope to] attract some investment to escalate adoption and build the roadmap then we will go to the next vertical."
We spoke to Canales about his work, and what advice he'd have for other entrepreneurs.
MW; What's the idea behind Contratool?
CT:  As a CFO of a high growth start up I was consumed keeping track with multiple contracts at multiple stages in the process, managing NDA's, non compete, client contracts, vendor contracts and investor contracts was almost a full time job.
I realized that our lawyers and all lawyers were using a processethat slowed down our business and a contract that could be resolved with a 30 minute conversation took days or weeks to finish because of the good old process of emailing the redline back and forth. Also, finding multiple versions of the document was cumbersome. I spoke to a number of executives and investors and I saw a common problem managing contracts and legal docs.
MW: What are 3 lessons you would share with other Latino entrepreneurs?
CT: 1) Validate early. 2) Keep the project lean. 3) Hold developers and designers accountable for the iterations.
To learn more about Contratool, click here.