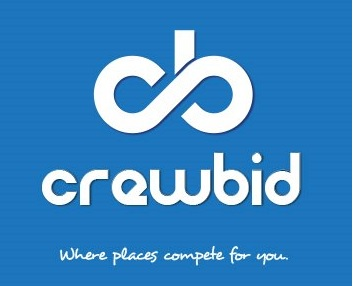 Crewbid is a company co-founded by friends Brian Blanco, a event promoter and Texas State University student, and Miguel Treviño. The two wanted to wanted to make it easier for people to organize social and corporate events. We spoke to Miguel recently and this is what he told us about the company.
MW: What does your company do?
MT: Crewbid is an online marketplace for funded social and corporate events. You can post information on Crewbid in order to receive custom packages from local venues and restaurants. "Crews" will receive bids sent directly to their phone for review; they simply select the best one and award the event to the winning vendor. Crewbid makes the process of planning and negotiating your group event fast and easy.
MW: How did you come up with the idea?
MT: It was my girlfriend's birthday, I was meeting her parents for the first time so I wanted to do something special. I had the date, number attending and a budget but I quickly found out that this process of searching online and calling around to different places was time consuming and not very productive. I finally reached an event coordinator at a high end restaurant here in Houston; I told her I wanted a private room for Saturday night, eight people are attending and wanted to spend around $ 400.00.
She said, "Well I have a private room. It normally costs $ 1,500.00 to rent. It's yours for $425 because we've been a little slow lately." The room and party were much better than I ever anticipated and my girlfriend and her family really liked it. This was the "ah-ha" moment. I knew that there was margin in-between the published retail rate and what the venue would actually accept at different times. The problem is that there was no way for customers and venues to effectively communicate in real time and find out what it would take to reach a deal.
If a system could be created that provided the venues with high quality leads for group events while at the same time could provide customers with an easy and fast method to see what their money could actually get them at any given time, it would be a win-win for everyone. Two days later I started working on Crewbid. 
MW: Why did you decide to become an entrepreneur?
MT: In my opinion becoming an entrepreneur provides you with the best opportunity to create what you really want in life. In my case these things are to take care of my family, freedom and the ability to stay creative over time. Crewbid is about communication, choices and opportunity. In essence It allows its members to plan and execute outside of the established purchasing sequence. In other words it gives them the opportunity and freedom to create something extraordinary and special. I like that.
MW: What are your future plans for your company?
MT: I want Crewbid to be everyone's personal event planner. I want our members to know if they're planning an event for their friends, family or company to know Crewbid is the fast and easy way to get the best package for their group. I launched a beta version in Austin and Houston late last summer. The response from the members and vendors has been very positive. The app is near completion and I plan a full launch in time for holiday events later in 2014. While Crewbid is a Texas company, I've been in contact with venues in Las Vegas, Miami and New York. 
MW: What are 3 pieces of advice you have for other entrepreneurs?
MT: 1. Be resilient 2. Cash flow is king and 3. Listen to your customers about what is working and what is not. I think number 3 is the most important. In my opinion, communication is more about listening than it is about speaking. People will tell you how, and what they want. An entrepreneur is one who listens and creates a way to provide it to them.