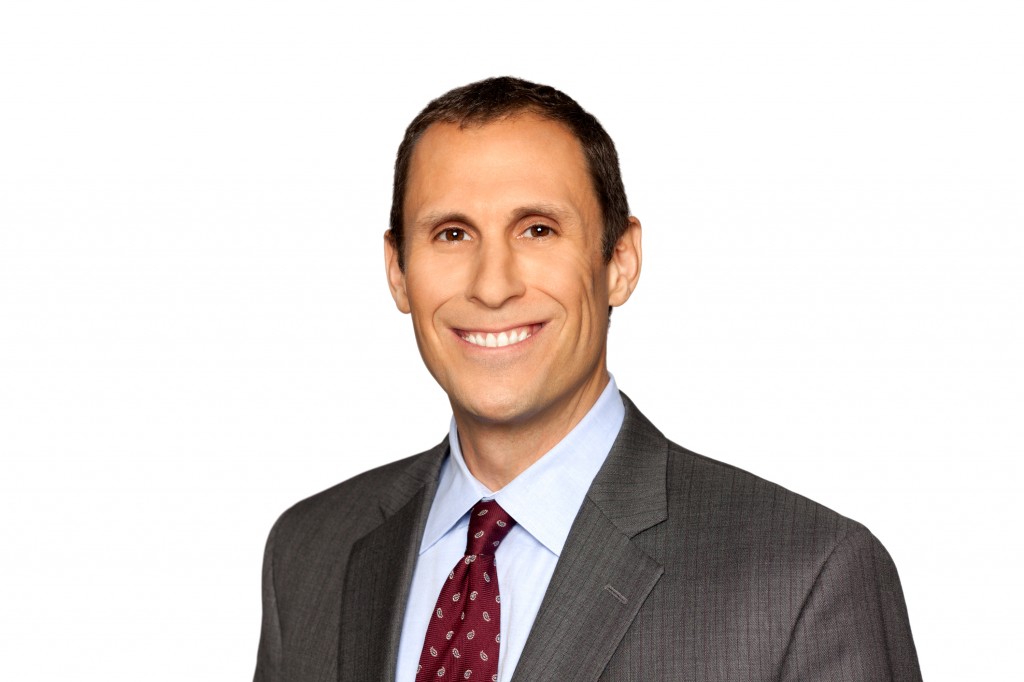 What if you could get video, tweets, photos and news stories about a breaking event all in one place? Eric Ortiz, a Los Angeles native and journalist-turned-entrepreneur, asked himself the same question two years ago and decided to create a solution: Evrybit.
A 2014 John S. Knight Journalism Fellow at Stanford University, he's the founder and CEO of the company that creates a mobile solution for live and collaborative reporting. The former sports editor, Ortiz told Más Wired that the inspiration for the company came from a conversation between he and his wife in November 2012 when he was working in Cambridge, Massachusetts. The conversation turned into an idea, which turned into a Knight Fellowship, where he was able to flesh out his idea into an app prototype. Now he's planning on moving back to Los Angeles and turn the prototype into a business.
In his own words, Evrybit addresses the problems of live storytelling in the digital age.
"Live, mobile storytelling, and local news reporting in particular, remains underutilized in the digital age, partly because an efficient and cost-effective mobile-based, all-in-one, live reporting and collaborative storytelling system does not exist. Evrybit will fill this gap," he said.
We asked Ortiz a few more questions, you can check out his company here.
MW: When, where and why did you start your company?
EO: The seed for Evrybit was planted in Cambridge, Massachusetts. One night in November 2012, I said to my wife, Maria, "You know what would be cool – a website that had only live blogs." The live blog format is ideal for mobile since all the content can be consumed in one scrollable story. A site dedicated to live blogs could be interesting.
As I was writing a draft of my innovation proposal, I thought, "Wouldn't it be great if a publishing system was optimized for live blogging on mobile devices?" That was the aha moment. I wanted to build something that could benefit as many people as possible, that as many people could use to create content with practical value.
MW: What does your company do?
EO: Think of Evrybit as a Swiss Army knife for mobile storytelling. Evrybit is a mobile-first collaborative storytelling tool for professional journalists and community correspondents. We provide tools that enable users to cover every angle of a story and produce interactive narratives. We open up the universe of multiple suppliers to content creators and make news production easy and profitable.
Evrybit users can capture and create bits of media (audio, video, photo, text, maps, polls, graphics) on their smartphone and string those bits together into a professional-quality story filled with context and perspective. They also can share the bits of media on social media. Other users can contribute bits of content to stories. The story creator determines who can collaborate.
Stories can be private, public with moderation or unmoderated. They can be embedded on websites and distributed on mobile and social channels. Consumers can rate content based on quality, accuracy and substance. Content producers can generate credibility points based on the credibility score and become trusted sources for news.
MW: Who is your target audience and how do you plan on reaching them?
EO: We believe Evrybit has a wide range of uses within the news business and other industries. Our initial target market is the sports industry: sports networks/news organizations, leagues/conferences/teams, and sports brands. Sports provide consistent live events and a consumer base hungry for constant updates. By boosting mobile reporting efficiency and optimizing collaboration, professional content creators can produce more professional, comprehensive stories faster and better. A higher volume of high-quality stories equals stronger traffic, ratings and audience engagement. Increased consumption leads to increased monetization opportunities.
We also are in discussions with news organizations and media producers that will use Evrybit for specific types of beat and event coverage (both sports and non-sports related).
We have a prototype in development and are entering the alpha testing stage. Then we will begin beta testing, with projects lined up at international, national, local and independent news organizations. Our initial beta will be invite only. We believe our beta can generate strong organic growth through word of mouth and social media. We also will tap into our network of press and media contacts to make people aware of Evrybit.
After beta, we plan to make Evrybit available to everyone.
MW: What is the biggest challenge or opportunity you see about being a Latino startup in the U.S.?
EO: Being in the media business for 14 years, I have seen firsthand the lack of Latino diversity in newsrooms and organizations, especially at the managerial level and in executive and senior leadership roles. The lack of Latino perspective and diverse voices is a challenge that impacts what news gets reported, how stories are covered and which decisions are made at an organizational level.
Latino entrepreneurship is on the rise. But in the tech startup scene, Latinos remain underrepresented. The Silicon Valley startup ecosystem is still a white-male-dominated network, and of the 2 million Latino entrepreneurs, only 1 percent of all Latinos pitch to venture capitalists. Success breeds success, so the more successful minority startups we have, the more minority startups we will see.
MW: What is your No. 1 piece of advice for other entrepreneurs?
EO: My top piece of advice is simple: Keep showing up. People might say your idea stinks. Ninety-nine out of 100 people might not understand your vision.  Don't get discouraged. If you believe in your dream, protect your dream.  Do your due diligence. Network. Make some progress every day. Don't get too excited about the highs or disappointed by the lows. Just keep grinding, have a Plan A to Plan Z, set goals, meet deadlines, and always be pitching wherever you go. Anyone can be an entrepreneur. To be a successful entrepreneur takes a relentless will to survive.
Sí, se puede.