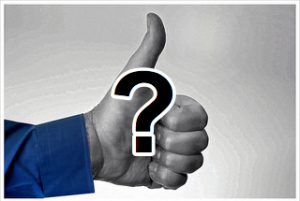 A recent BBC investigation has begun to question the value and weight of the Facebook Like — a common currency on the Internet that has helped advertisers, charities, and more — though probably not any lives. With the meaning of the Like in question, one must ask: What does this mean for consumers? Producers? What about Facebook?
According to the BBC investigation, Facebook declared that 5-6% of its userbase might be fake, a total of 54 million profiles out of Facebook's 901 million users.
Compared to the official population estimate of the United Kingdom (62 Million), and you've got a nations' worth of fake people out there Liking and inflating the stats. Mind you, the UK is one of the 25 most populated countries in the planet, too. This isn't San Martin and the Vatican out there Liking things, this is a huge population of nonexistent people who are having an effect on the Like ecosystem. All that said, this huge and nonexistent population is unlikely to drown out the voice of real people any time soon, for multiple reasons.
The Internet has always had bots and spammers. They aren't uncommon on discussion forums, emails, or other websites, it shouldn't surprise advertisers that these exist on Facebook. Dismissing Facebook entirely for marketing would be a fool's errand over fear of "false Likes."
Aside from that, many corporate Facebook pages interact with fan in ways that go beyond Likes. Statuses posted by a company usually garner comments from the fanbase on the action or products, allowing direct feedback to be given to the producers. Will the feedback accurately reflect how the entire market feels? Of course not, but it likely will correlate with the amount of Likes the same status receives. Facebook pages for companies with active interaction between the consumer and the producer will probably reflect, a lot better, the reality of the situation on the ground and give both consumer and producer a view of what the other is doing.
For producers, dismissing social media because of Facebook Likes is simply out of the question.
In example, the power of social media can be weighed in the growth of the craft beer market alone. Small breweries without the budget to spend on advertising campaigns might simply opt for a Twitter or Facebook which allows them to do multiple things: Reach consumers, disseminate information, and receive feedback. With a smaller and probably regional consumer base, these breweries can easily address consumer concerns and gauge the market with ease thanks to this.
The beer consumers of America are beginning to notice that, and a look down your local beer aisle will show how much change there has been. A consumer can easily pick up regional, corporate, or even international beers from their local supermarket. Ever see a commercial for Sapporo, Dogfish head, or Dead Guy Ale? Probably not, but they have a powerful media presence.
Social media has given these upstart or foreign (in the case of Sapporo) beers a chance to grow and flourish in what was once a market solely dominated by major brand-name beer. Despite a massive population of fake users on Facebook and other media platforms, somebody is consuming these beers and producing the revenue necessary to keep these products on the shelf.
There is one last question that must be asked: What defines a "fake" user? Odd profile information? Someone who rarely, if ever, posts a status? A fake profile picture? With no clear definition of a "fake" user from Facebook, the population statistic must come into question. Are there more "fake" users out there than Facebook has detected? Less? Without knowing Facebook's criteria and survey methods, we will likely never know the reality of how many accounts on the website are fraudulent.
The odds are that social media is safe to use for spreading awareness and information about products, as well as testing the waters for reception. It allows the consumer and the producers to have an open dialogue between each other. Shutting that door on the consumer due to fears of "fake" Likes would be a disaster for smart producers and upstart companies. It simply means that information gathered needs to be examined, not just taken at face value.
[Image Via owenwbrown]