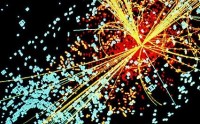 Charles Ellison wrote a great piece for Politic365 about how the Higgs boson discovery recently highlighted the importance for greater STEM emphasis in the U.S. Here's an excerpt:
Since 1960, U.S. investment in research and development has declined by two-thirds.

While NASA's budget is only 1% of the federal budget, constituents complain that it's too much while we rot on recession. Many laughed hysterically when former House Speaker now defunct Republican candidate Newt Gingrich had the gall to suggest we build a moon base. Pundits who lament our global STEM standing giddily exchanged jokes with late night comedians in one very anti-science stone throwing session at Gingrich.

You can't have it both ways. Either you do want more American kids interested in math, science and engineering or you don't.  Crippling their imagination by ridiculing the prospect of space exploration and advancement – as if the Earth were flat and the center of the universe – is as egregious as burning books.  Seriously: are you in or are you out?