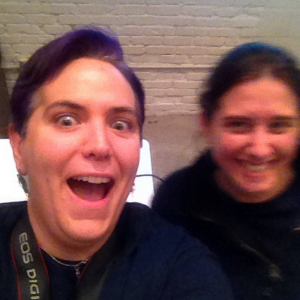 I just won my first hackathon on an all-woman team in Los Angeles at the TechWeekLA Hackathon. That was the crown jewel of my seventh week of coding with the Sabio developer program. I couldn't be more ecstatic.
The experience was so unique because we were on an all-woman team. Given that we were a handful of women working on a projet together, and that there were literally a handful of women on the rest of the teams, it felt pretty special.
Our project, Two Birds, used Google Maps and Yelp to help you get as many errands done as you needed using the most efficient route possible. The scenario we used to talk about the app was needing to pickup tampons, beer and chocolate.
Two Birds would look up the three closest locations to suit those errands, then return the route closest to you.
Developing the app was a great experience because three of my teammates were graduates of Sabio, but from earlier cohorts. So I got to see professional developers in action, working JavaScript like wizards and contribute to a project with them. That was a great feeling.
Ultimately we won second place, and our Sabio brothers won third place. Pretty darn good for a bunch of folks who learned to code in the past year (or less, in my case). I look forward to participating in more hackathons in the future and would love to work with Sabio Fellows on future projects.
You can check out our presentation about Two Birds here.