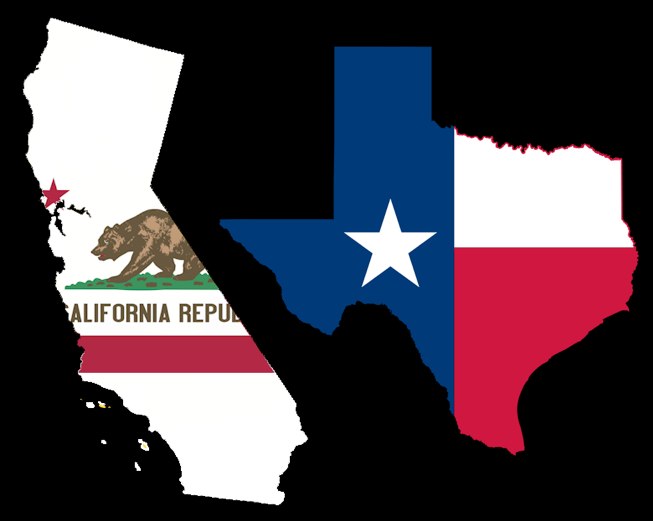 Immigration and tech may not seem to be intricately linked on the surface, but the current immigration reform debate in Congress and some recent data show otherwise. States where immigrants are concentrated have strong, and growing, tech sectors, and thus would likely benefit greatly from immigration reform.
California and Texas ranked first and second, respectively, in tech employment, according to a recent Cyberstates report. These states also happen to be places where Latinos, and immigrants, are heavily concentrated. For example, a recent report found that 1 in 10 residents of Los Angeles County was an undocumented immigrant. Another map estimates California's population of undocumented immigrants is 2.5 million; for Texas this number is 1.65 million.
No other state came close to these numbers of undocumented immigrants. Just like no other states came close to the numbers of tech jobs added. Nationwide the tech industry added 67,400 net jobs, according to the report — and California and Texas alone accounted for 41% of nationwide tech growth.
Immigration reform means not only that talented young people in these states will be able to enter the workforce, but also that talent from other countries can help U.S. businesses continue to prosper.
California ranked first in terms of tech employment, adding 17,700 net jobs to a total of 968,800. And in the Golden State tech workers earned, on average, the highest wage nationwide, $123,900, compared to the $93,800 nationwide average. Emerging industries in the state include computer systems design, as well as R&D and testing labs.
Texas' numbers were also impressive; the state added 10,000 net jobs to grow the tech employment sector to 485,600 jobs. Workers in this sector earned an average salary of $92,200 and growing in computer systems design and engineering services.
Efforts to promote immigration reform have frequently zeroed-in on economics as a driver for reform. One such effort, iMarch or the March for Innovation, is a nationwide effort to urge Congress to pass immigration reform that has incorporated many different types of technology into its pitch.
The event is taking place on Twitter, as well as physically in locations across the country, and boasts tech and celebrity superstars. In Austin, for example, a live event will be streamed to the Internet,and is being supported by the Austin Technology Incubator, South by Southwest Interactive, Texans for Economic Progress and Texas Instruments.
Another group that's been pushing specifically from the tech sector for reform is the Mark Zuckerberg-backed FWD.us. The group is using social media to advocate for immigration reform and boasts support from some of the tech world's biggest names.
For more information about the March for Innovation click here, for FWD.us click here.
[Images Via Júlio Reis and AnonMoos]