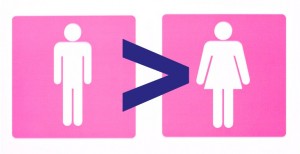 Ever wonder where all the women in science and tech are? According to one study, one reason there are such low numbers of women in these fields is because their science professors don't think they are as smart as their male counterparts. Sadly, these biases applied to both male, and female, professors.
The study was published in the Proceedings of the National Academy of Sciences and titled "Science faculty's subtle gender biases favor male students." According to a New York Times article about the study:
…professors were less likely to offer the women mentoring or a job. And even if they were willing to offer a job, the salary was lower…

Female professors were just as biased against women students as their male colleagues, and biology professors just as biased as physics professors — even though more than half of biology majors are women, whereas men far outnumber women in physics.
So, if institutionally science professors already think less of female students, what are they likely to think of Latina science students? As we previously wrote, Latinas face an uphill battle riddled sexism and racism when pursuing tech or science fields.
While it may be that there's little institutions can do to overhaul these mistaken notions amongst the country's science faulty, one thing the rest of us can do is mentor and encourage Latino students to persevere in the face of difficulty. It looks like they could use it.
[Image Via smip.co.uk]