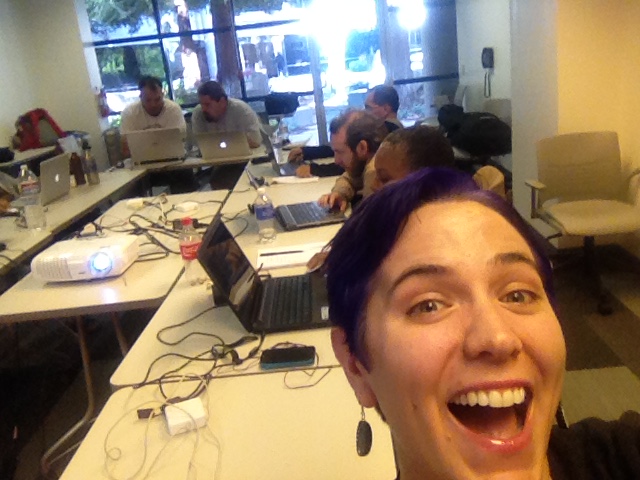 The Internet is finally starting to make sense — and I couldn't be more excited!
I'm now four weeks into Sabio's developer training program and I am happy to report that the gobbledygook that was once staring back at me from the computer screen is now starting to make a bit more sense. The computerspeak is finally starting to make a little bit of sense, which is exciting for me because I finally feel like I have a little bit of a base of knowledge on which to build more knowledge.
When I started out I was desperately trying to understand what the code was doing, how to make it do what I wanted, remember which type of code did what and I had a really hard time learning to ask questions in a way that would provide me with answers. It's been a month, an intense month, and while it hasn't been easy, it's definitely been worth it. At least now I have a working knowledge of what is happening when I program in certain things, and if not, I've actually managed to fix a few things all by myself by Googling up some answers.
One of the most important lessons I've learned in the past few weeks is that coding isn't what you think it is — typing constantly and implementing code seamlessly. Rather, it's maybe 20% typing and 80% figuring out why something isn't working. For someone just learning you think that you're incompetent and you're never going to get it right, but it turns out that "debugging" is just as much a part of the coding process and the actual writing of code.
Once you figure that out, your whole attitude changes and it becomes easier to learn how to debug — as well as code.
Learning to code is hard, but I'm lucky that with Sabio I have an excellent teacher in Gregorio Rojas and an excellent team in Cohort #4. I've learned a lot about learning, as well as all of the cool things I will be able to do with a working knowledge of software development. And, quite frankly, now that we're working on building Electa, a voting app for Latinos, I see how much great work I'll be able to do with a working knowledge of code.
It's especially exciting since Electa was selected by Voto Latino as one of the semi-finalists in the #VLInnovators Challenge! If we win not only could we be eligible for prize money, but we could create a tool for the wider Latino community to use.
I'm only about a third of the way into my program right now but I'm looking forward to learning a lot more, if you have questions about Sabio or would like to ask me different questions, tweet me, @SaraChicaD.