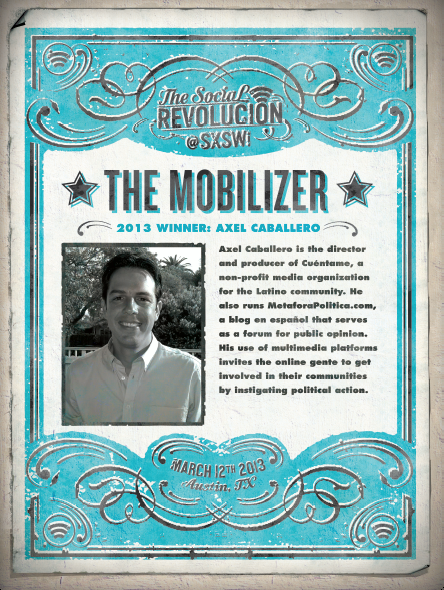 The Social Revolución announced winners of its 2013 awards Thursday, a day ahead of the start of South by Southwest Interactive.
In "The Mobilizer" category Axel Caballero and Joaquin H. Guerra were selected.
Caballero is the director and producer of Cuéntame, a non-profit media organization that invites Latinos to share their personal stories online and encourages political and community activism. He also runs MetaforaPolitica.com, a blog and public opinion forum in Spanish.
Guerra is a digital strategist and immigrant advocate who used his professional background to spread the story of Walter Lara, an Argentine immigrant who embodies the common dilemma of an undocumented immigrant brought to the United States as a child and forced to return to his country of origin. Guerra continues to help the Latino community by working to build digital engagement capacity for non-profits servicing low-income communities.
In "The Innovator category, Mi Vida Tec – with Rosa Alonso and Magaly Chocano won.
Rosa Alonso uses social media to share new technology trends, digital and social news, and lifestyle tips in English and Spanish, while making the content relevant to Latino audiences.
Chocano launched Swebapps, the first build-your-own-app platform, which has helped local, national, and global brands find their footing in the mobile space.
The "New Americano" awards saw a three-way tie between Viviana Hurtado, Laura Donnelly Gonzalez and Alicia Rascon and Dream Activists.
Hurtado is an award-winning journalist and founder of The Wise Latinas Club, an online space to educate Latinas about the political process, spark civic engagement, and encourage community involvement.
Donnelly Gonzalez and Rascon have empowered over 20,000 young Latinas through their non-profit organization Latinitas. By training young girls to use Web 2.0 platforms and technology, Latinitas is bringing a voice to a rising generation of New Americanas.
Dream Activists is an online network of social media activists that advocate the enactment of the DREAM Act by sharing the stories of individual DREAMers online.
Finally, the 2013 Líder of the Revolución award went to DREAMers. According to The Social Revolución, "These Líderes demonstrate that being is not defined by where you were born. Undocumented and unafraid, DREAMers have uniquely used social media and their online voice to strengthen their advocacy strategies and create opportunities that reflect our modern reality. Their message has united organizations and people, inspiring a movement with a clear objective—to open doors for immigrant students to realize their own American Dream."
For more information check out The Social Revolución.